VENUE GUIDE
This page is for shows wanting to perform at AMC and needing to
 know about how AMC @ UCC works, tech info, costs ... and so on.
Scroll down the page to find these sub-headings ...
WHAT AMC @ UCC OFFERS
AMC @ UCC: THE DEAL
FRINGE DEADLINES
FRINGE REGISTRATION RATES
SHOW TIMINGS and SLOT LENGTHS
MAIN ROOM TECH and Other Related Stuff
PRINT: FRINGE PROGRAMME
PRINT: VENUE BROCHURE
DISABLED ACCESS :: VENUE STORAGE :: TICKET SALES
COMING TO EDINBURGH FROM ABROAD
USEFUL WEBSITES
---
Introduction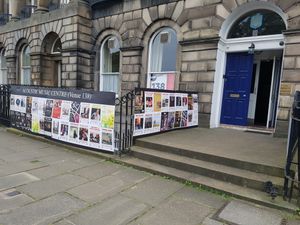 The ACOUSTIC MUSIC CENTRE is now in its third home (pic right) since it began life in the old Edinburgh University Women's Union building in Chambers Street in August 1982, running there annually each Edinburgh Festival Fringe until 1995. The university then took the building back to convert it into offices and AMC went dark from 1996 to 2005 when it restarted in St Bride's Centre running successfully there until 2016. Having been asked on Friday 17 February 2017 for a ridiculous rent for St Bride's by Edinburgh City Council if we wished to be there in August 2017, AMC found a new and welcoming home on Monday 20 February 2017 in the Ukrainian Community Centre (aka UCC) at 14 Royal Terrace, Edinburgh EH7 5AB.
In our new venue, from August 7 to 27 2017, AMC hosted 70 shows under its new name "AMC @ UCC", of which almost 20 sold-out the 80-seat Main Room. Result!
The following August there were 73 shows of which 26 sold out. Result x 2!!
Edinburgh-based entertainments agency, Stoneyport Associates, programmes AMC taking everything right through from initial contact with performers and performing companies to putting them on-stage, through marketing and publicity, to dealing with the subsequent box office pay-out after the festival.
UCC volunteers man the cosy bar in the basement below the performance room (aka The MAIN ROOM) serving alcohol and tea/coffee. UCC provides the legal back-up in licensing the venue for performance and all the other venue-specific stuff they do year-round anyway.
Since it began in 1982, 'brand' AMC has become synonymous on the Fringe for good acoustic, roots, folk, Celtic music (and some other arts forms). When we ran AMC @ St Brides we estimated that some 70%-75% of those musical genres being presented annually on the Fringe was programmed at AMC.
DISCLAIMER
This document is written in good faith and is believed to be accurate at the time of writing.
The whole document is intended to describe what AMC @ UCC proposes to provide for prospective participants to enable them to present shows in UCC during the Edinburgh Festival Fringe.
However, this provision cannot be guaranteed when circumstances outwith the control of Stoneyport Associates or UCC require an adjustment of what is offered here. Then, the rules of Force Majeure will apply.
---
WHAT AMC @ UCC OFFERS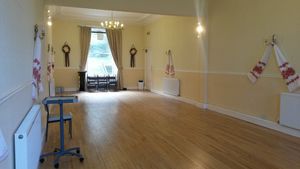 The Main Room 
The Main Room (pic left looking towards the rear of the building) is 15 m long x 5 m wide x 5 m high and is on the ground floor above the basement bar. There are two doors into/out of the room. One, (leading to the foyer/box office and street) is out of shot to the right; the other is at the far end of the room to the right of the window and leads to toilets (inc disabled facility) and the back garden, a designated smoking area. The room can seat up to 80 on comfortable seats some round small cafe-type tables and the rest linked in compliance with licensing regulations.
The Stage (see picture of the room laid out as used by AMC in section "MAIN ROOM TECH" below)
Facilities 
UCC has been the Scottish hub for Ukrainians fleeing the Russian invasion of their country on February 24 2022. Consequently AMC has had to modify its dressing room offer to a single lockable room off the downstairs bar. The only facility there we can now offer is a full length mirror and clothes hangers/rails. There is no lift in the building, only stairs. The venue's public toilets and wash-hand basins (hot/cold water) are on the ground floor, adjacent to the Main Room. Please note, AMC @ UCC does not supply towels in the dressing room.
PA System, lighting etc 
The Main Room PA system comprises a good quality rig, including a Behringer XENYX X22228 8-channel desk, two free-standing Behringer FoH speakers, mic boom stands, mics+cables, DI boxes, two foldback monitors and stage box/snake. There is good and friendly technical assistance on hand to help you set up the gear and get ready for your show. Although there are only 30 minutes to set up between shows, we very rarely start a show late. This is important because (a) Fringe audiences can be very busy whizzing around the city to see as many shows as possible in a day and (b) over-running your show affects the timing of all the AMC shows which follow yours - we do not want that and don't allow it. 
AV Equipment and Projection 
The orientation of the stage in the room means that projection is very difficult, if not impossible, and since 2019 we have abandoned using projection (no shows asked for the facility). 
IMPORTANT
In keeping with our name, Acoustic Music Centre reserves evenings for music but, should we choose to accept them, we can also offer the Main Room to shows in the afternoon and mornings. These could be non-musical shows. 
Please note ... 
AMC @ UCC reserves the right to refuse to allow a company the use of the Ukrainian Community Centre to present a show because: 
(a) the logistics of the venue mean the show would be inappropriate for the venue, or 
(b) the show is deemed unsuitable as determined by AMC programming guidelines. 
NB1: if you want to film/video your show we must know as soon as possible before the show date in case seats have to be removed for camera(s) and therefore taken off sale. 
NB2: All Electrical equipment brought into AMC @ UCC for use in any show must be PAT tested and certificated. 
---
TOP OF PAGE :: HOME PAGE :: SHOW INFORMATION :: SHOW GRID
---
AMC @ UCC: THE DEAL
The only deal AMC offers currently for providing a space in which to perform is:
AMC will receive 40% of the total gross box office proceeds versus a fixed basic management fee as a non-returnable charge, aka guarantee, whichever is the greater. The participant will receive 60% of the total gross box office proceeds less ...
(a) box office commission (@ 4.8% gross) on all tickets sold,
(b) PRS @ 4.8% gross if appropriate, and
(c) any other outstanding expenses.
NB: Acoustic Music Centre is not VAT registered.
The advance fixed basic management fee
This guaranteed payment is necessary because Acoustic Music Centre does not have enough capital to create the venue each year and so everyone must contribute before the venue can open in August. Typically, AMC's Fringe registration fees (ie. your registration fees) will be upwards of about £5 000 or £6 000 depending on how many shows we host. Your AMC management fee is included in the box office split (see below) and your payments go into a Royal Bank of Scotland client account to protect your money.
Your 60% share of your total gross box office
This is deducted from your total gross box office sales before box office commission and the PPLPRS levy (see 'Ticket Sales' later on in this page for further details). We have no hidden or added-on-later costs unless you make a request for something we do not normally provide and then any agreed costs resulting will be re-charged to you at cost. There should be no financial surprises for you.
Box office payment schedule
The balance of your total gross box office less any outstanding amounts due to AMC or to the Fringe will be paid to you in early October (all box office monies received also go into same client a/c). This payment is triggered by the Fringe Office paying out box office proceeds which we receive from them on your behalf usually at the end of September.
Your first management fee payment to AMC
We accept AMC management fee payments in full only. We do not accept payments by instalments. Your AMC management fee includes the Fringe's show registration fee for registering your show with them and to allow them to place your show information in the Fringe programme and in their box office system. Prompt payment of your AMC management fee is needed because the Fringe office will not accept any programme information without pre-payment. That means AMC cannot submit your show info to the Fringe Office unless we have your management fee.
Payment by cheque may need 3-4 days to allow it to clear through our bank before we pay it on to the Fringe Office; BACS and other bank transfers are quicker and preferred and we can accept payments via PayPal.
Please note, AMC will not pay you …
(a) a performance fee
(b) accommodation while en route to, or while you are in, Edinburgh (or while en route elsewhere after your show)
(c) any transport costs, and,
(d) per diems.
We will send you a contract by email in due course after details of your participation in AMC @ UCC have been agreed.
PROVISION
What you get for your management fee
The Main Room: fixed basic management fees.
All these fees include the appropriate Fringe registration fee.
| | |
| --- | --- |
| NUMBER OF SLOTS | PRICE PER SLOT |
| 1 or 2 | £ 250 |
| 3 to 5 (inc) | £ 250 |
| 6 to 21 (inc) | By negotiation |
The fixed basic management fee pays for/gets you ...
(a) into the main printed Fringe programme (ie 'registration')
(b) into the Fringe and AMC @ UCC websites (and possibly others)
(c) into the AMC's own brochure (A2, folded multi-panel, 5 000 print (tbc), full colour)
(d) AMC and Fringe computerised box office services, (inc ticket printing)
(e) PA and lights
(f) stewarding/FoH
(g) help when possible with PR/marketing
(h) name inclusion in our generic venue print/marketing/publicity
(i) venue licensed for performance of music or theatre
(j) general advice on things 'Fring-ie'; ie we deal with the Fringe Society on your behalf
(k) your merchandising is commission-free in AMC (you sell and we take no sales commission).
(l) access to all the support facilities offered by the Fringe Office
The fixed basic management fee is part of the 40% split of box office received by AMC @ UCC.
Please note: there is occasionally some confusion over this ... you do not pay to AMC the Fringe registration fee PLUS the AMC fixed basic management fee. Our management fee is 'all inclusive'.
Again: the Fringe registration fee is included in the AMC management fee, so you pay AMC only the appropriate AMC management fee.
Here are examples of how this is worked into the 'AMC Deal' ...
MAIN ROOM
Deal Examples - based on a notional capacity of 80 seats and AMC management fee of £240.
(i) If your gross ticket sales amounted to £600 of which 40% = £240, and you had paid AMC the full fixed basic management fee of £240 in advance for one slot, no further payment would be required. With an average ticket price of £10 you would need to sell 60 tickets in this case (75% of 80-seat capacity). If your average ticket price was, say, £12 then you need to sell 50 seats @ £12 (62.5% of capacity) to realise the same financial outcome.
(ii) If, however, you sold out @ £12 average ticket price, and so grossed £960 of which 40% = £384, and you had paid us the full fixed basic management fee of £240 in advance, we would require a further £144 (= £384 - £240) which we would retain from your total gross box office proceeds. You would receive £576 (60% of £960) less box office commission, PRS (if appropriate), and any other outstanding expenses.
---
TOP OF PAGE :: HOME PAGE :: SHOW INFORMATION :: SHOW GRID
---
FRINGE DEADLINES
The dates you need to know
A "Fringe first sign-off" date means that by that date your show info as processed by the Fringe programme team, who send AMC a proof copy of your entry, will have been fully and thoroughly checked by you so that AMC can sign off your show to be processed by the Fringe box office team. A corresponding "on-sale #1 etc" date is when these details will appear 'live' on the Fringe box office website to allow the public to buy your tickets.
The AMC on-line box office echoes this but without the gap between sign-off and on-sale. When AMC signs off your show information to the Fringe office as being correct, the same info will also be up-loaded to AMC's box office and within about 24 hours your show should be on sale there.
The gaps between dates of "Fringe first sign-off" and "on sale on line" allow for the Fringe box office to check and create your entry information to go on sale.
FRINGE REGISTRATION RATES
These prices are current and have been since about 2010.

Limited Run:
One or two performances of the same show @ £96.00 inc VAT
(no discounted Fringe registration fee for limited run shows)
Short Run:
Three to five performances (inc) of the same show @ £204.00 inc VAT
(no discounted Fringe registration fee for short run shows)
Extended run:
Six or more performances of the same show
a) Discounted registration fee @ £295.20 (inc VAT)
(NB: The show must be registered at the Fringe Office before 17:00 BST on Wed 5 April 2023).
b) 'Regular' extended run fee @ £393.60 inc VAT (ie. no discount).
(NB - to be changed for 2023 ... The show must be registered at the Fringe Office from Thursday 6 April 2023).
AMC will register your show with the Fringe Office once you have paid AMC the appropriate Fringe show registration fee as above along with your submission to AMC of your show info and an image (we will contact you about that).
AMC's aim is to have the majority of our shows registered with the Fringe Office by approx mid-March simply because it's one thing less to pursue and panic about as the Fringe programme copy deadline approaches. However, for any extended run shows, it's financially worthwhile not leaving registration until the early April deadline since it's nearly £100 more expensive if you do so. So do it by mid-March.
SHOW TIMINGS and SLOT LENGTHS
AMC offers seven slots daily, each 1 hr 30 mins long (1 hour performance, plus 30 minutes get-in/set-up).
    slot #1 – 12:30pm to 2:00pm; get-in 12:30pm; show-time 1:00pm to 2:00pm
    slot #2 - 2:00pm to 3:30pm; get-in 2:00pm; show-time 2:30pm to 3:30pm
    slot #3 - 3:30pm to 5:00pm; get-in 3:30pm; show-time 4:00pm to 5:00pm
    slot #4 - 5:00pm to 6:30pm; get-in 5:00pm; show-time 5:30pm to 6:30pm
    slot #5 - 6:30pm to 8:00pm; get-in 6:30pm; show-time 7:00pm to 8:00pm
    slot #6 - 8:00pm to 9:30pm; get-in 8:00pm; show-time 8:30pm to 9:30pm
    slot #7 - 9:30pm to 11:00pm; get-in 9:30pm; show-time 10:00pm-11:00pm
Daytime slots #1 to #3
These slot lengths may be adjustable depending on show's requirements and the timing of other surrounding shows in the programme. Slot #3 must end by 5pm.
Tech checks
A tech-check is not a full sound-check and is done right before your on-stage time. You have 30 minutes to get on-stage, set-up and tech-check and then we admit the audience to get seated.  Our staff are very good at doing this and will help you! We rarely fail to get a show up and running on time.
MAIN ROOM TECH and Other Related Stuff
The Stage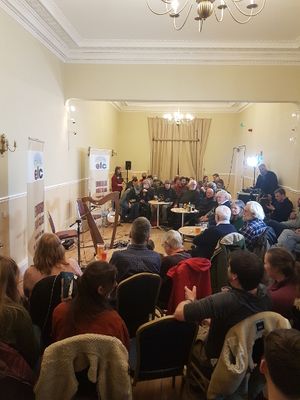 The picture (right) shows what AMC calls the Main Room laid out for an Edinburgh Folk Club gig. This is more or less how AMC sets it up (although EFC do not use a back-cloth nor a clearly defined floor area as the stage. In the picture the stage area is where the harp is and the front of the stage is defined by the small tables as shown.
As shown here, the AMC stage is 'the floor' (ie. it is not raised) and is 2 m deep x 5 m wide (defined by black dance-flooring) with 5 m overhead and is placed as shown - approximately half-way along the wall opposite the room's access doors.
There is no back-stage or wings but there is (currently) a dressing room off the downstairs bar (stairs, no lift). The venue's public toilets and disabled toilet and wash-hand basins (hot/cold water) are adjacent. We do not supply towels in the dressing room.
PA System, lighting etc
The Main Room PA system comprises a FoH 8-channel mixing desk (Behringer), two free-standing FoH speakers, mic stands, mics+cables, multi-core and two foldback monitors. Plus, of course, a competent engineer providing good, friendly technical assistance on hand to help you set-up the gear and get ready for your show. We do not provide AV equipment because playing across the short side of the room precludes that as an option (there isn't enough room for the gear!).  AMC does not provide backline as a matter of course but we can probably help in sourcing it if we have enough advance warning of your needs. The Fringe is a big black hole for all sorts of equipment for many miles around - and even across the Border -  such is the demand for gear in August. BE WARNED.
The lighting is a bit elementary but very modern - two LED lanterns on approx 2.5 m free-standing stands.
Electrical equipment brought into UCC for use in any show must be PAT tested and certificated.
---
TOP OF PAGE :: HOME PAGE :: SHOW INFORMATION :: SHOW GRID
---
PRINT: FRINGE PROGRAMME
This 'bible' of the Edinburgh Festival Fringe will be published centrally from the Fringe Office (this was in early June 2022 - may change in 2023; tbc) and is crucial to your ticket sales. The show information put into the Fringe programme is also published on the Fringe website (www.edfringe.com) in an extended form.
You will send us ...
    40-words of copy describing your show.
    This word-count MUST INCLUDE your show's title.
    The words themselves shouldn't include the show's title.
    100-words of copy which will be added to the Fringe website - same word-count rule as for 40-words.
    A 'good' image (hi-res, 29 mm square, 300 dpi essential - if the image doesn't meet these criteria, the
    Fringe's programme software will reject the image. This image does not have to be a photograph.
The 29 mm x 29 mm square image specification is dictated by the layout of the printed Fringe programme. If you don't have a square image please send one which can be adjusted to become square. Bear in mind that it's impossible to take an image of a band spread out across a stage and make it square without either distorting it so it's unrecognisable or cropping people from the edges of the image. Neither provides a good result! We will advise and help you get your copy and image right before passing it on to the Fringe Office.
The Fringe programme has an enormous print-run (usually in the low hundreds of thousands) so you do need to think hard about what you write for your 40- and 100-word show descriptions (aka your blurbs). For some ticket buyers the Fringe programme might be the only piece of printed information about your show that they see. Make it persuasive so they buy your tickets, and not tickets for that 'other' must-see show. This is really important for one-off shows where there is only one opportunity for your audience to get to see you.
The Fringe Office sends AMC your programme proofs as pdf files. AMC passes the proofs on to you to check. Ultimately you are responsible for ensuring the information is correct and can be signed off so your show can go on sale.
PRINT: VENUE BROCHURE
Since 2009, AMC's brochure has been an A2 double-sided poster-style, folded to 1/3 A4 panels which makes it nicely pocket-sized and convenient (and cheaper). Whatever design we use we will need from you …
   100 words (usually the 100-word blurb mentioned above) which we may need to edit to fit available space
   a good quality, good contrast hi-res (300 dpi) colour image (preferably the same one which the Fringe has
   received).
This copy and image will be published on the AMC website and box office and anywhere else where we might get free publicity (like our Facebook page).
Send all this information as soon as possible.
---
TOP OF PAGE :: HOME PAGE :: SHOW INFORMATION :: SHOW GRID
---
DISABLED ACCESS
UCC has a portable ramp to help get wheelchairs over the four steps from the pavement to the front door. Thereafter the ground floor has flat access for wheelchairs to the Main Room, the box office and toilets. The basement bar cannot handle wheelchairs since access is down staircases both internally and externally from street level. The building does not have a lift. If you have any questions about this on behalf of your audience, or yourself, please call us (07968-131737).
VENUE STORAGE
Temporary storage in UCC can be an issue depending on what you want to leave. If you need storage please tell us what is needed and we'll see what can be done but we can't promise anything. Flammable materials must not be brought into UCC. Smoking is not permitted inside UCC. There is a designated smoking area in the back garden. Please do not smoke at the front of the building (for an explanation of this rather curious stipulation please ask). Check your own insurance since AMC's insurance does not include your losses - you agree that anything you leave temporarily in UCC does not make either UCC or AMC liable for its safe return to you.
TICKET SALES
AMC will run an in-house over-the-counter and telephone sales box office throughout the dates we are open. The over-the-counter box office in UCC will open daily one hour before before the first show's on-stage time. Your show(s) will be advertised for sale 24x7 through the AMC's own on-line box office website. The AMC @ UCC website does not offer on-line booking but is linked to both AMC and Fringe box offices.
For all telephone bookings to the Fringe office there is a booking fee added to the ticket price to cover processing and p&p if the buyer needs the tickets mailing to them in advance.
The Fringe box office commission will be 4% + VAT ( = 4.8% gross) while AMC's own box office commission will be 4.8% on the face value of all tickets. The AMC's own box office host (Brown Paper Tickets), in common with other similar on-line ticket sales outlets, will apply a booking fee per ticket on top of the ticket's face value.
Box office commission on all total sales will be ...
    Fringe Office @ 4% plus VAT @ 20% :: AMC 4.8% gross     
PPLPRS levy (if appropriate) on all sales will be ...
    @ 4% plus VAT @ 20% :: AMC @ 4% plus VAT @ 20%
---
TOP OF PAGE :: HOME PAGE :: SHOW INFORMATION :: SHOW GRID
---
COMING TO EDINBURGH FROM ABROAD
Certificate of Sponsorship
A Certificate of Sponsorship - aka CoS (formerly the work permit) will be needed if you are coming to Edinburgh from abroad and planning to perform elsewhere in the UK before/after the Fringe. However, if you intend to perform only at the Edinburgh Festival Fringe (ie. nowhere else in the UK) you do not need a CoS. Edinburgh is a 'work-permit' free zone in August as are many other big international UK festivals. A CoS is in fact only a number which UKBA will send to you if your application to get one is successful. That number allows immigration folks at your (air)port of entry to the UK to inspect the UKBA computer records and check you over before letting you pass. AMC can help with this - we have contacts who are 'certified' issuers of CoS (UKBA approved, 'Grade A' no less). They will charge you a fee (tba) for doing this.
Also, AMC will give you a letter to show to UK Immigration at your port of entry clarifying why you are entering the UK.
For the next two sub-headings you can find useful info which is a bit more detailed on the Fringe website HERE.
Your Visa
You must clarify your UK visa status.
CoS is not a visa so do not confuse the two.
Go HERE to check this.
AMC will not accept any responsibility for you failing to obtain the correct visa.
Taxation
It is highly unlikely that you will make enough money from performing on the Fringe to have to worry about UK taxation after all your expenses are taken into account. This time, and for no charge, Stoneyport may be able help reduce or maybe even eliminate your potential UK tax liability.
Fringe Glossary
Go HERE for a list and meanings of various words as used in the Fringe. Useful to find out what we're talking about in discussions of matters 'Fring-ie' when sometimes the usual meanings have been twisted a bit.
USEFUL WEBSITES
Fringe website - HERE.
A key resource with all kinds of info re the Fringe
Fringe programme style guide - HERE.
Everything you need to know about putting info into the Fringe programme so that it is consistent throughout the programme. An important reference doc which helps by reducing how many times the Fringe's proof readers send back your blurb requesting corrections before they can publish it.
AMC website – HERE.
Printers - go HERE.
This is the Evolve group - recommended. AMC and Stoneyport have used this company for many years. Good prices and great service.
Out of Hand (Scotland) - go HERE.
Our print distributors. Reliable and cost effective. They also offer design and print.
The List magazine - go HERE.
Local and national fortnightly arts and entertainments magazine.
First Coast - go HERE.
An excellent value for money quality restaurant in Dalry Road offering European/British/Scottish cuisine. Not handy for AMC but it's well worth the detour. Highly recommended!
Kahani - go HERE.
Very handy! From the front window of this excellent for value restaurant you can look along Royal Terrace. Top value restaurant offering wonderful Indian and Pakistani food. Very friendly welcome and great service. Originally known as Khushi's it was one of Edinburgh's first such restaurants back in 1947.
Navadhanya - go HERE.
If you want an Indian restaurant which successfully strives to be a 'cut above', this is the one to head for. Not quite fine dining but pretty damn close and most certainly not your two-dollops-of-curry-in-a-bowl sort of place. A bit more expensive than the average (whatever that is) but well worth the extra pennies.

Armstrong's Second Hand shop - go HERE.
Describes itself as a vintage clothing shop. Four centrally located branches and a mecca for 'clothies'. Always busy and sometimes great value, seldom less so. Well worth a visit anyway.

Sandy Bell's Bar - go HERE.
World famous folk music pub since the late 1950's/early 1960's. Not very busy at lunchtimes usually but in the evenings that all changes especially during the Fringe and across the main tourist season. Good top shelf on the gantry with a lot of good whisky on offer (and gin). Very friendly staff as well. Highly recommended.
Lothian Transport - go HERE.
Edinburgh's main bus company.
Edinburgh Hostels - go HERE.
Some great bargains and quite decent accommodation.
Visas (UKBA) - go HERE.
---
TOP OF PAGE :: HOME PAGE :: SHOW INFORMATION :: SHOW GRID
---