---
WEEK 3: MONDAY 21 to SUNDAY 27 AUGUST 2023
SHOWS THIS WEEK (scroll down)
A Certain Edge :: Acoustic McCartney :: Acoustic Sting :: Ali Affleck Celebrates the Queens of Swing - Ella Fitzgerald, Peggy Lee, Dinah Washington and Anita O'Day :: Archie Fisher :: Arthur and The Scattered Notes :: BrÒg :: Claude Bourbon: Progressive Blues (France) :: Curmudgeon Scottish Folk Music :: Dustbowl Blues with A Glasgow Kick (John Alexander) :: Gardyloo (George Machray) :: Grimes, Krieger and Hughes :: Kirsty McColl: My Tribute (Karen J White, Australia) :: LS2 F'n Good Music (Linda Stonestreet, USA) :: Maggie Holland :: Romy Wymer (Holland) :: Sako Wana and Djankafro (Burkina Faso) :: Steve Tilston :: 3300 miles: Jersey to Edinburgh – Transatlantic Song Circle
Shows below are listed chronologically.
---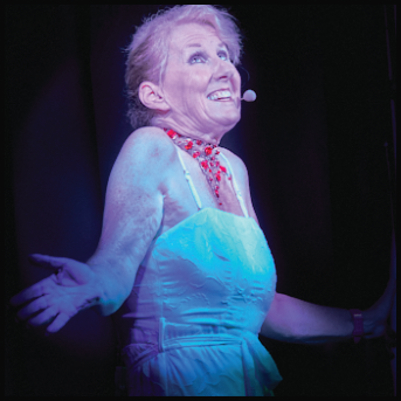 Existing Kirsty fans know she could take her audience on an emotional roller-coaster from happy to sad, betrayed to raunchy. Karen takes you on her version of that journey with songs from Kirsty's entire career from "They Don't Know" in 1979 to the final album released in her lifetime "Tropical Brainstorm". For most of the songs Karen will accompany herself on guitar, and for others she will sing to her "band-in-a-stick", backing tracks taken from her professionally produced tribute albums. Songs will be interspersed with snippets of Kirsty's life up to her untimely death in 2000.
20, 22, 24, 26 Aug 16:00 (1:00)
21Aug 14:30 (1:00)
All tickets:  £13.00 (£12.00); £10.00 (disabled, over 60); family £9.00 (pp, family of four)
BOX OFFICES: AMC / FRINGE
---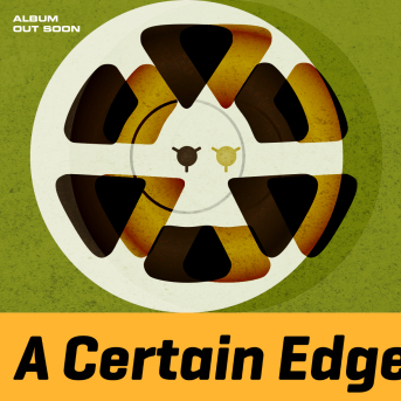 Scything through life's absurdities and poignancy from the right side of 50 by exploring musical forms from the wrong side of The Sixties, this singer-songwriter turncoat-musician collective blend influences from Bacharach to Bach, Steely Dan to Dylan. A rock/jazz/pop band with a folk singer guitarist, a classical composer pianist, a bassist of uncertain provenance and a drummer who is a guitarist. Three writers, three lead vocalists, great songs, great harmonies. Elvis Costello and the Attractions meet King Crimson meet The Carpenters. They debut at Fringe '23. Get them while they're hot!
14 - 16, 18 Aug 17:30 (1:00)
17, 19, 21, 23, 25 Aug 16:00 (1:00)
20 Aug 20:30 (1:00)
All tickets:  £12.00 (£8.00); £8.00pp (pp, family of four)
BOX OFFICES: AMC / FRINGE
---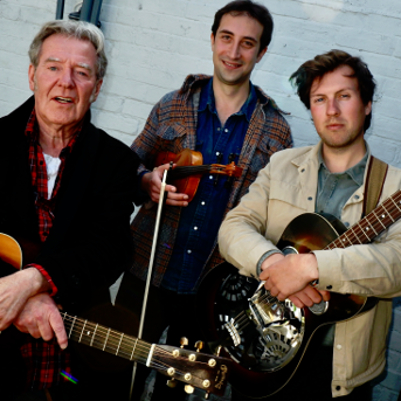 Three of North East England's finest musicians have got together to 'play hooky' from their musical day jobs and play the music they love. BBC Radio 2 Folk Award nominee Jed Grimes (Hedgehog Pie, The Hush) joins Niles Krieger (fiddle, guitar, vocal) and Rupert Hughes (guitar, vocal) from NE bluegrass band The Often Herd to bring an evening of NE trad song, Americana, Dylan, a touch of blues and a few surprises. Virtuoso instrumentals, stunning three-part harmonies and off-the-cuff North-East banter.
21 Aug 17:30 (1:00) £12.00 (£10:00)
BOX OFFICES: AMC / FRINGE
---
BrÒg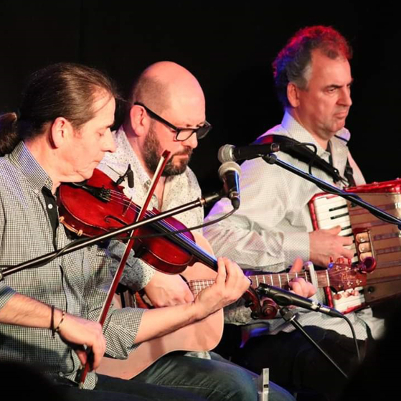 Jigs, reels, airs and beautiful songs from the Scots tradition by three of Scotland's finest musicians. BrÓg features Gary West on pipes, whistles, vocals and guitar, Greg Borland on fiddle and bass, and Sandy Brechin on accordion. Gary plays with the famous Atholl Highlanders, is the presenter of the podcast 'Enjoy Your Piping', ex-Ceolbeg, Caledon and Clan Alba. Greg plays with Other Roads, ex-Caledon and Kathryn Tickell Band. Sandy plays with The Jimi Shandrix Experience, The Sandy Brechin Band and a host of other bands.
7, 8 21 Aug 19:00 (1:00)
23, 24 Aug 20:30 (1:00)
All tickets: 14.00 (£12.00); £9 (pp, family of four)
BOX OFFICE: AMC / FRINGE
---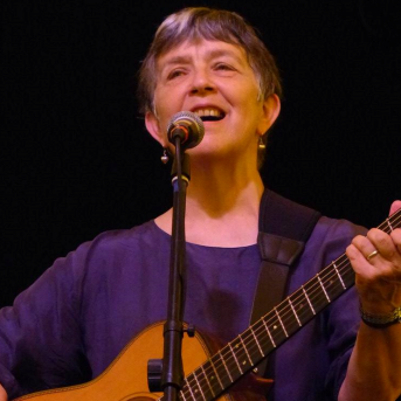 Maggie Holland has been playing music for over 50 years in several bands but latterly solo. She sings songs by Woody Guthrie, Billy Bragg, Bruce Cockburn, Chris Smither, Bob Dylan and Butch Hancock. Several of her own songs have entered the repertoires of artistes such as Martin Carthy and June Tabor. Maggie received the BBC Radio 2 Folk Award "Best Song of 1999" for her song "A Place Called England". The late Colin Irwin wrote: "The proof that outstanding contemporary songs are still being written". Her new CD The Dust of Rage was released in May 2023.

13, 21 Aug 20:30 (1:00)
17 Aug 22:00 (1:00)
All shows: £12.00 (£10.00); £9.00 (over 60), £8.00 (pp, family  of four)
BOX OFFICES: AMC / FRINGE
---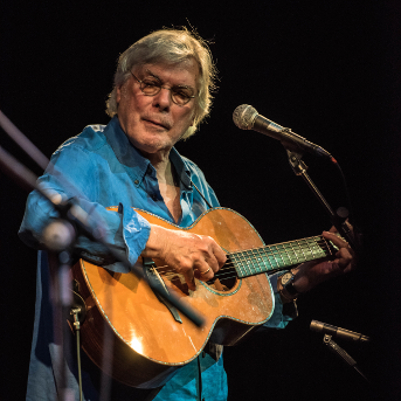 An intimate evening of music, featuring his own critically acclaimed award-winning songs alongside unique settings of popular folksongs. Steve is one of our most celebrated songsmiths, widely recognised within the world of folk and contemporary music; the words, arrangements and quite superb guitar playing could be no-one else. With a style drawing from folk, blues, jazz and classical, he's honed a sound that is instantly recognisable as 'Tilston'. On top form as he celebrates 50+ years on the road with his latest release Such Times. ".songs of great heart, delivered with authority and instrumental panache." (Scotsman)
22 Aug 17:30 (1:00) £12.50 (£10.50)
BOX OFFICE: AMC / FRINGE
---
Claude Bourbon: Progressive Blues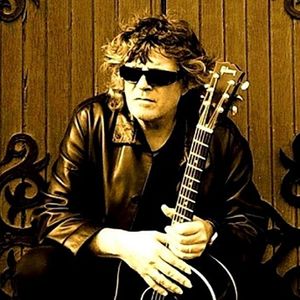 Ready for a unique, talented take on a wide range of musical traditions? Bourbon is known throughout Europe and America for amazing guitar performances taking blues, Spanish and Middle Eastern stylings into uncharted territories. "Bourbon has the gift of brilliant sequencing. The result is a hypnotic voyage along a river of songs and instrumentals. He uses a vast array of music tools to paint a landscape we have all visited in person or in our dreams." (FolkWorks). "A breathtaking fusion of blues, jazz, classical and Spanish guitar from a stunning guitar virtuoso." (Altadena News, USA).
22 Aug 19:00 (1:00) £15.00 (£12.00); £10.00 (pp, family of four)
BOX OFFICES: AMC / FRINGE
---
Dustbowl Blues With A Glasgow Kick
John Alexander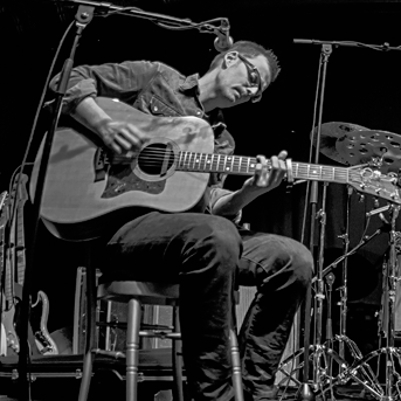 Alexander's strong songwriting, riff driven guitar work and rich vocals, strut the high ground between folk, blues and americana music. He's back from the dustbowl with new album "Face the Wind" and more tales of landscapes, life and weather inspired songs. With influences by the likes of Muddy Waters, Robert Johnson, Bob Dylan and John Martyn prepare to take a soul-grasping musical journey from lonesome desert highways to the Mississippi Delta, calling in at the shipyards of his hometown. "scorching guitar riffs, dusty vocals and beautifully crafted songs" (Herald)
15, 22 Aug 20:30 (1:00) £15.00 (£10.00)
BOX OFFICES: AMC / FRINGE
---
Curmudgeon Scottish Folk Music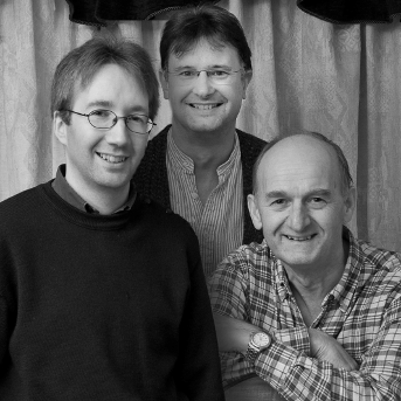 Sold out at AMC2022! Curmudgeon are an Edinburgh based trio who play (mostly) Scots songs and tune sets and are popular Fringe regulars at the AMC. They are: Laurie Brett on vocals and guitar; Andrew McIntyre on vocals, Scottish small pipes and whistles; and Donald Gorman on fiddle, mandola and backing vocals. As always, sweetie-packet rustlers will be ejected, but joiners-in on choruses are generally encouraged! Good fun ensues.
23 Aug 17:30 (1:00) £12.00 (£10.00)
BOX OFFICES: AMC / FRINGE
---
Jez Lowe and Andy May - Songs, Strings and Small-pipes
JEZ LOWE and ANDY MAY
Songs and tunes from North East England, from award-winning songwriter and author Jez Lowe and his long-time musical collaborator and leading Northumbrian piper and pianist Andy May, featuring a modern-day slant on the long-established Geordie traditions of working-class balladry, wry observations and distinctive melodic journeys. A wide range of instruments, including guitar, cittern, mandolin, piano, whistle and Northumbrian pipes.
23 Aug 19:00 (1:00) £12.00 (£10.00)
BOX OFFICES: AMC / FRINGE
---
TOP OF PAGE :: HOME PAGE :: SHOW GRID
---
Sako Wana - Ko Koura
Sako Wana Djankafro Band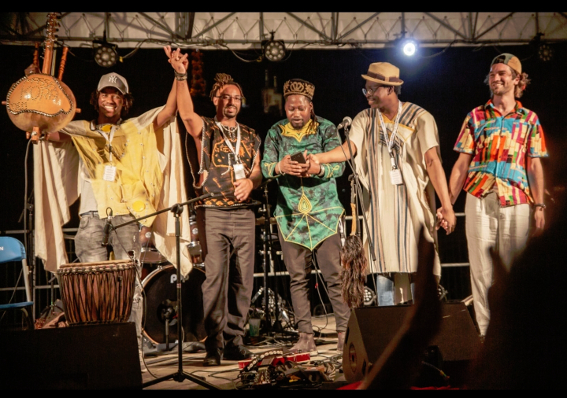 With the colourful music of Sako Wana's griot heritage, he invites various influences on to the same stage offering a fiery groove that takes the audience on a festive journey to West Africa. Mixing pulsating rhythms from traditional Mandinka instruments, such as the ngonie and the balafon, in perfect harmony with guitar, drums and bass, Sako Wana's vision of the world is offered in the Bwaba, Dioula and Moore languages. He advocates love, peace and solidarity for a more human world, a new way of living together.
24 Aug 17:30 (1:00)
27 Aug 16:00 (1:00)
All tickets: £12.00 (£10.00); £8.00 (students, disabled, under 18, over 60.)
BOX OFFICES: AMC / FRINGE
---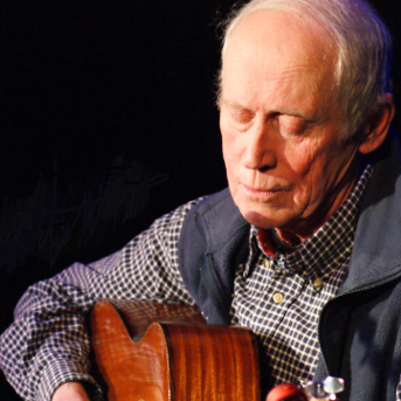 "One of Britain's finest song interpreters" (Sing Out). "...seems like Archie invented Scottish folk" (Boston Globe). From a singing Scots family (sisters Ray and Cilla were both professional singers) and known for superbly judged guitar accompaniments, Archie has long been a most highly regarded and respected Scottish folk-singer. He was inducted into the Scots Traditional Music Hall of Fame (2006) and received an MBE for services to traditional music (2007). Along with a stellar international performing career spanning five decades, for 27 years Archie presented BBC Radio Scotland's award-winning programme, Travelling Folk.
24, 25 Aug 19:00 (1:00) £12.00 (£10.00); £9.00 (pp, family of four)
BOX OFFICES: AMC / FRINGE
---
LS2 F'n Good Music
Linda Stonestreet and her Lowland Symphony (LS2)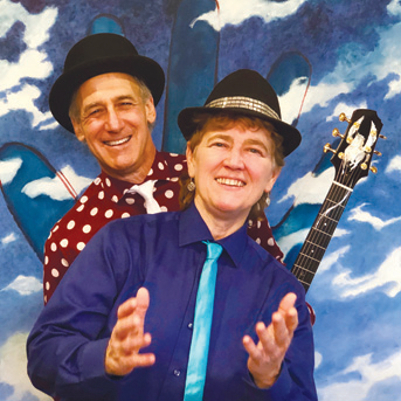 An Americana Soul acoustic group from California, Linda Stonestreet -a honeyed voice full of grace and fire- lends beautiful melodies with intelligent heartfelt lyrics and is known for making-stuff-up in the moment with interactive singing. Credits include over 40 published songs, a podcast and vocal improvisation workshops. Not only is she a prolific songstress, but she is also a Force of Nature. Linda Stonestreet and her Lowland Symphony have curated an especially inspiring show for the Fringe because they believe in the power of having fun. What about you? Come, get your groove on!
25, 26, 27 Aug 13:00 (1:00)
26 Aug 20:30 (1:00)
All tickets: £12.00 (£9.00); £9.50 (pp, family of four)
BOX OFFICES: AMC / FRINGE
---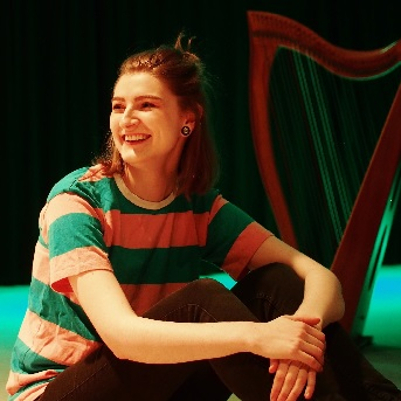 "Brand-new music for a very old instrument" - after her Fringe debut last year, harp player and composer Romy Wymer is back with a show full of tunes about the mundane joys of life. Romy's unique, innovative style and sensitive playing have previously earned her a second place and audience award at the World Harp Competition, as well as a spot in the semi-finals of the BBC Young Traditional Musician of the Year. But mostly, she's here to have some light-hearted fun.
25 Aug 17:30 (1:00) £12.00 (£8.00)
BOX OFFICES: AMC / FRINGE
---
Gardyloo!
George Machray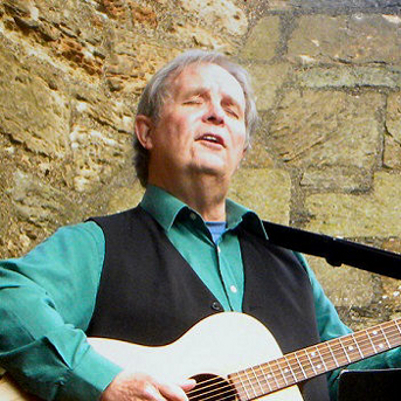 East Lothian folk singer, George Machray writes songs about the towns, villages and characters in and around Edinburgh with themes varying from the humorous to the serious. George is a triple winner of both the Edinburgh Folk Club Song Competition (Audience Vote) and the Glenfarg Folk Festival Annual Song Contest. He has opened for Isla St. Clair, Adam McNaughtan and Barluath. George's popular song "Swinging In Dunbar" can be found on the Edinburgh Folk Club Facebook page where it has notched up over 26K views. His album "Singing Off Quay" is available on Spotify.
25 Aug 20:30 (1:00) £10.00
BOX OFFICES: AMC / FRINGE
---
Acoustic Sting
Gus Boyd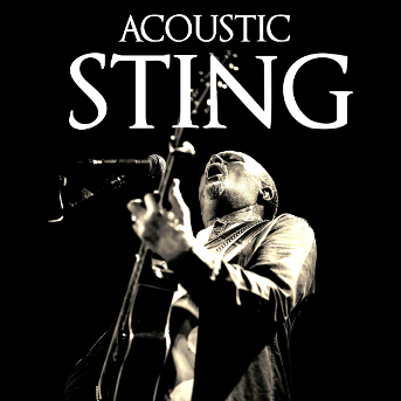 After sell-out shows at Edinburgh Festival Fringe 2016, 2017, 2018, 2019, Gus Boyd returns to the touring circuit with a new show performing again totally live: Police and Sting solo album songs. One guitar, one voice and well crafted interpretations of all the iconic classic tunes with a fresh percussive twist. With a similar vocal timbre and range, Gus delivers with passion and power - songs such as Roxanne, Fields of Gold, Desert Rose, Message In A Bottle, Fragile, Every Breath You Take, Walking On The Moon, Englishman in New York... not to be missed!
26 Aug 17:30 (0:50) £14.00 (£13.00); £11.00 (unemployed, disabled, under 18)
BOX OFFICES: AMC / FRINGE
---
Acoustic McCartney
Gus Boyd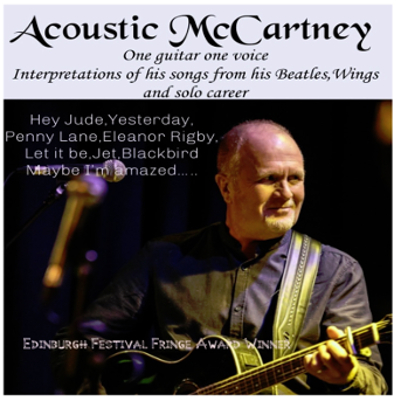 One voice, one guitar - Fringe sell-out award winner Gus Boyd returns to AMC (the scene of his earlier award-winning shows). 'Acoustic McCartney' mines the extensive and brilliant catalogue of the icon and legend that is Paul McCartney to present a 'best of' selection of his many great songs. Songs from The Beatles, Wings and solo songs. Expect to hear: 'Yesterday', 'Here There and Everywhere', 'Fool On The Hill', 'The Long and Winding Road', 'Let It Be', 'Hey Jude', ...and many more.
26 Aug 19:00 (0:50) £14.00 (£13.00); £11.00 (unemployed, disabled, under 18)
BOX OFFICES: AMC / FRINGE
---
Ali Affleck Celebrates the Queens of Swing - Ella Fitzgerald, Peggy Lee, Dinah Washington and Anita O'Day
Ali Affleck and Bedlam Swing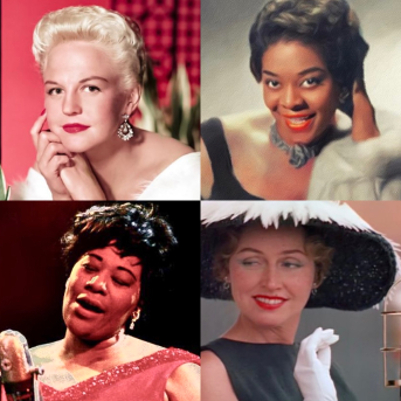 Rediscover the golden age of swing jazz - Ella Fitzgerald, Dinah Washington, Anita O'Day, Maxine Sullivan, Peggy Lee. Award-winning Ali pays fiery homage to these trailblazing and musically vital women with her acclaimed band. Scotland's 'Queen of Vintage Jazz' (OC Weekly). 'The real deal' (Clive Anderson). 'Stunningly expressive. Astounding vocals' ***** (San Diego Union-Tribune). 'Musical storyteller' (Scotsman). 'No other singer can deliver this material with such authenticity and so swingingly' (BBC Jazzhouse). 'Vivacious stage presence' (Herald). "Outstanding ***** (Edinburgh49.org). Early booking advised!
27 Aug 17:15 (1:00) £15.00 (£12.00)
BOX OFFICES: AMC / FRINGE
---
3300 Miles: New Jersey to Edinburgh - A Transatlantic Songwriters' Circle
Dan Sheehan, Seán McLaughlin and Fifidiny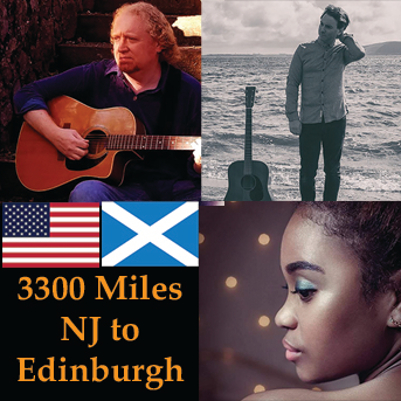 Songwriting performers Dan Sheehan (USA), Seán McLaughlin and Fifidiny (Scotland) perform and tell the stories behind their songs in a song circle setup, taking turns while onstage together. Sheehan will perform songs from his forthcoming concept album The Seas Are Rising about the urgency for climate action. McLaughlin, known for leading the Scottish group Dante, will debut songs from his forthcoming album with The Wind-Up Crows. Fifidiny, recently named Best Female Artist of the Year at the Proudly Black and Scottish Gala, will perform acoustic renditions of her electro-pop songs.
27 Aug 19:00 (1:00) £10.00 (£8.00); £7.00 (students, unemployed, disabled, under 18), £8.00 (pp, family of four)
BOX OFFICES: AMC / FRINGE
---
TOP OF PAGE :: HOME PAGE :: SHOW GRID
---