WHERE WE ARE
(Click for Google Maps)

UKRAINIAN COMMUNITY CENTRE
14 Royal Terrace
Edinburgh EH7 5AB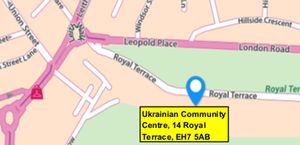 NB: On-street metered car-parking, Monday to Friday from 8:30am to 5:30pm
---
DISABLED ACCESS TO AMC @ UCC
UCC has a portable ramp to get wheelchairs past three steps from the pavement and into the building's ground floor. Thereafter access to the Main Room on the ground floor where the shows take place is flat. There is a disabled toilet on the ground floor towards the rear of the building. Two wheelchair spaces are available in AMC's gig-space, the Main Room.
The building does not have a lift. The basement bar is not accessible by wheelchairs neither from the street nor via the internal stairs from the ground floor.
---
Dateline: Wednesday 12 January 2022
 A NOTE ABOUT AMC2022
The Acoustic Music Centre for 2019 ended on Sunday 25 August. COVID-19 led to AMC not running in August 2020. In, 2021, we ran a reduced AMC of only five nights / ten gigs just to keep our presence 'out there'.
We do hope to be fully operational again in 2022 from Monday 8 to Sunday 28 August with our usual full programme of 70-80 presentations (and we're getting close to that already).
 
As of today's dateline, we may still leave in place for a while some of the out-of-date aspects of this site to give you an idea of what usually happens at AMC. However we really do hope that come August 2022 we will not need the COVID rules page will is currently here.

We are now accepting proposals from shows which wish to book slots in 2022.
Click here to email your enquiry.
---
STONEYPORT ASSOCIATES, an entertainments agency based in Edinburgh, has brought together the shows which will perform at the ACOUSTIC MUSIC CENTRE @ UCC in August during the Edinburgh Festival Fringe.

Previously, from 2005 to 2016 (inc), the Acoustic Music Centre was at St Bride's Centre on the west side of the city centre and was the 'go to' Edinburgh Festival Fringe venue for audiences looking for good acoustic, roots, folk, Celtic music (amongst other things). Something like 70%-75% of that kind of music being presented annually on the Edinburgh Fringe happened in St Bride's. In early 2017 that had to change and AMC found a new home @ UCC.
AMC actually began in 1982 elsewhere in Edinburgh, in Chamber's Street Students Union (no longer with us - now offices!!) where it ran very successfully until 1995.